The time has come for me to write a post devoted entirely to food, inspired for the most part by Pinterest. I'm happy to say that I've actually made many of the recipes that I've pinned on my Good Eats board. If you don't have a Pinterest account, get one. And follow me!
Here are summaries of recent recipes with a Mexican twist, all of which I'd recommend:
Chipotle's Cilantro Lime Rice: I'm obsessed with Chipotle's rice. When my Chipotle-addicted husband gets his regular fix I'll usually order a bowl of rice for a snack ($0.90, holla!), and this version tasted almost exactly like the real thing. Experiment with the quantities of lime juice and cilantro to find your perfect flavor.
Photo courtesy of skinnytaste.com
Chipotle Chicken Taco Salad: In keeping with the Chipotle theme, I attempted this recipe to satisfy Nathan's constant cravings. It was so. good. I sauteed some chicken with salt, pepper, chili powder and cumin and it went perfectly with the adobe dressing.
Photo courtesy of nutmegnotebook.com
Watermelon Lime Frosty: This is my new all-time favorite summer beverage: fruity, all-natural and faintly sweet. I eliminated the banana since it overpowered the watermelon flavor, and added just a dash of agave instead of the recommended 2T. Nathan wasn't a huge fan of the lime, so experiment with how much you like added.
Photo courtesy of krystaslifeinfood.com
Black Beans and Coconut Lime Rice: Coconut is one of my favorite things on this earth, and this recipe was to die for. I followed the instructions pretty exactly and will definitely make it again. Top with chilled mango cubes to complement the spice.
Stacked Roasted Vegetable Enchiladas: My sister-in-law Catherine is a vegetarian, so when she visited we attempted a meatless version of enchiladas, my all-time favorite food. Nathan and I are both pretty peevish when it comes to veggies, and the only ones considered "safe" (lettuce, tomatoes, peppers, cucumbers) can be found in our nightly salads. We are also unashamed carnivores. Creating a dish with NO meat and unmentionable ingredients like cauliflower took guts, but the result was astonishing. An unbelievably creamy, savory sauce with just the right amount of spice enveloped the ingredients until we couldn't even tell you what we were eating, but it didn't matter - it was that good. Even Nathan dug in with gusto. Make these soon - they are delicious.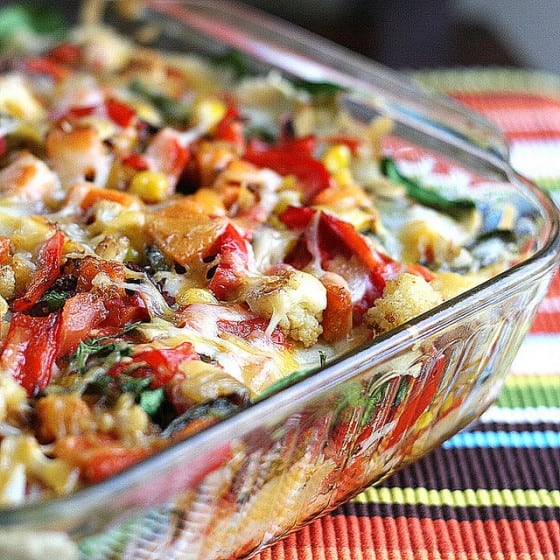 Photo courtesy of perrysplate.com