Last week was our two-year anniversary, and it was wonderful. As I puttered around the house in the wee hours of the morning I found the sweetest love notes tucked in cupboards, between the pages of my Bible and among my clothes. That evening we dressed up and enjoyed a 4-course extravaganza at The Melting Pot: cheese fondue, salad, a variety of meats and (of course) chocolate. We were served complimentary bubbly and took home six gigantic chocolate-covered strawberries. Nate gave me a beautiful card and played a slideshow he'd put together, from our first date six years ago till the present. I am blessed beyond belief!
The celebration continues next week - we will be in Hawaii sightseeing, surfing, hiking, snorkeling, sunning and NOT blogging! So in the meantime, please enjoy a collection of my favorite Pinterest treats. I recommend making these for some kind of party or gathering...otherwise you'll end up like me, standing at the kitchen counter and eating an entire batch of cake batter rice krispie treats out of the pan. True story.
Photo courtesy of sixsistersstuff.com
Strawberry Napoleons: After a miserable Knock You Naked brownie fail (in which the brownies weren't sufficiently cooked when I poured the melted caramel over them, resulting in a rock-hard crust and gooey uncooked-ness underneath...) I attempted these Napoleons in a last-ditch effort for a dinner party. Good heavens, am I glad I did. Don't leave out the toasted almonds - they complement fresh strawberries and custard for an out-of-this-world flavor. Dust some powdered sugar over the top, and everyone will think you're a pastry extraordinaire. Gorgeous and delish!
Photo courtesy of adashofcompassion.com
Oatmeal Cookie Dough Bites: I have an insatiable craving for raw cookie dough. These are made without eggs, butter or sugar, and full of protein! I keep them in the freezer for a quick, filling snack when I'm dying for something sweet.
Photo courtesy of sweetannas.com
Chocolate Chip Cookie Dough Brownies: In keeping with the raw cookie dough theme, these are of a much less healthy but to die for variety. Everyone that I've made them for - including myself - can't stop eating them! I didn't have enough chocolate chips to do glaze on the top, but they are incredible without it.
Photo courtesy of onceuponarecipe.wordpress.com
Cranberry Oat Scones: Any Jane Eyre, Pride and Prejudice or Little Women marathon is incomplete without scones and tea. Over the years I've made many varieties of scones, and these are hands-down my favorite. My friend Leslie introduced me to lemon curd, and these + lemon is simply indescribable. Make these today, even if you don't have curd. They are healthy(ish), filling and so, so good.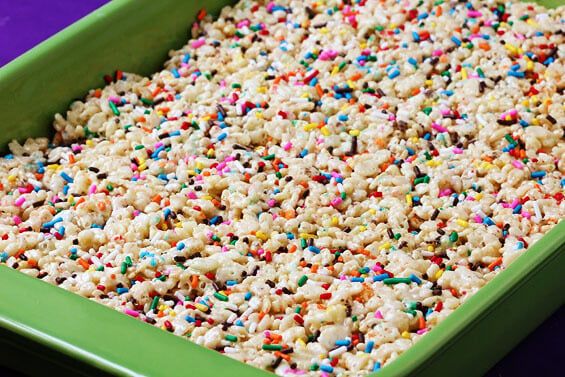 Photo courtesy of gimmesomeoven.com
And finally, my demise: Cake Batter Rice Krispie Treats. I'm one of those strange people who would rather eat cake batter straight from the bowl than a slice of baked cake. And rice krispie treats - need I say more? When I recovered from my pan-eating binge I promptly took the rest to work, where they disappeared by the end of the day. I guess you can never outgrow sprinkles and rice krispies! (I also tried a popcorn version for youth group - the kids loved it but leftovers tasted soggy by the next day.)
Cook up a batch o'sweetness this weekend - and keep an eye out for Hawaii pictures!