I know what it is to live entirely for and with what I love best on earth.
I hold myself supremely blest -
blest beyond what language can express;
because I am my husband's life as fully as he is mine...
To be together is for us to be at once free as in solitude, as gay as in company.
- Jane Eyre
I hope I never forget a single detail of June 20, 2010. The sun shone brightly, and the normally sultry summer air was as clear and radiant as I felt. I woke up early and finally tore the last link of the looong paper chain we had made together. After three years of dating, our 359-day engagement should've been a breeze. Instead it was one of the most agonizing things I'd ever gone through. And on that day, June 20, it was finally over - the endless waiting, the "already but not yet" tension to define boundaries on a relationship that was so much more than dating, but not marriage. In just a few hours we would finally - finally! - belong to one another.
I squirmed and butterflied my way through that never-ending day. Bridesmaids and beauticians drifted into my living room; someone showed up with a lunch tray but eating was the last thing on my mind. Nathan and I had decided not to communicate for the two days between the rehearsal dinner and wedding ceremony, and all I could think about was what he was doing and how he must be feeling. The words that had been swimming in my head for days finally took form, fueled by the butterflies, and I scrambled to my bedroom to finish writing my vows to him in a tiny notebook.
Finally it was time to go. Sisters, bridesmaids, parents, suits and dresses piled into our trusty family van, and we careened down rustic back roads accompanied by many bumps and a near-death experience when Dad, caught up in the moment, failed to notice a red light. We pulled up to the stately white mansion nestled among acres of forested mountains, and amid cries of "The boys are almost here! Hurry!!" raced past throngs of volunteers hooking up sound equipment, placing tables and chairs and making lemonade.
Sequestered on the third floor of that grand mansion I zipped blue dresses, admired vibrant coral flowers, spied on guests, choked down two strawberries and paced. After what seemed an eternity I was finally squeezed and sewn into my own dress, bejeweled, perfumed and rushed down the stairs for bridal portraits on the lawn. Too late! Guests clustered around the stairs and everywhere I turned. Panicked at being spotted before I walked down the aisle, I raced back up the stairs and we clicked off some portraits in record time and in all kinds of unique places like the bathroom and an old armchair. Props to my all-time favorite photographer, Kristen Leigh, who is a master of genius in unexpected, time-crunched scenarios! (Check out her own love story - a romance that only God could have written.) Second-shooters Abby Leigh and Ellie Berry were equally phenomenal. I'm so impressed by teenage proteges.
While waiting to walk down the aisle I read a darling letter penned by my groom as he sweated anxiously in the room below me, and caught a few glimpses of him in the garden while the guys had their portraits done. My heart threatened to fly right out of my chest. I was really and truly marrying the handsomest man this side of heaven.
Finally it was time. I lined up behind my ten best girls and descended three sets of stairs. At the bottom I made eye contact with my dad, and the look on his face was priceless. I spent my last moments as a single gal giggling with my sisters and whispering with Dad. Pachelbel's Canon echoed over the loudspeakers and my beautiful, beautiful bridesmaids floated down the aisle. My hand tightened on Dad's arm. A moment of silence...and the words of Jon McLaughlin's "So Close" reverberated into the stillness. "Now you're beside me/ And look how far we've come/ So far, we are so close." The instrumental interlude soared, we rounded the corner and suddenly I was taking the walk I'd always dreamed of towards the man I loved more than anything in the world.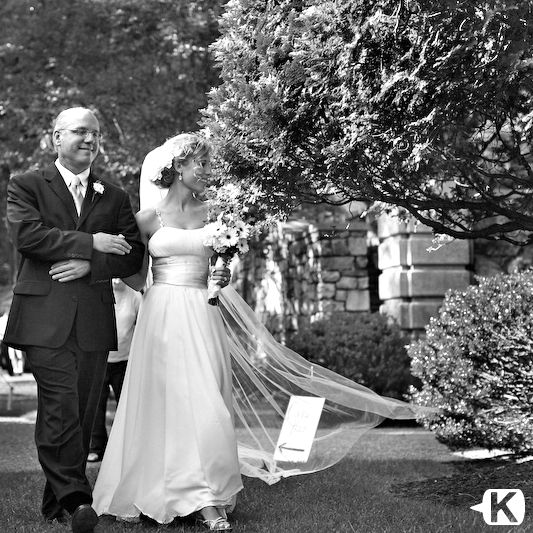 The song was one of Nathan's favorites, and I'd stalwartly kept my choice a secret from him. My goal was to make this strong and steady young man weep as I appeared in all my bridal beauty and waltzed down the aisle to become his. Nate beamed uncontrollably and did not shed a tear, but four years of pent-up emotions and longings overwhelmed me. He hugged my dad and took my hand with that special smile reserved just for me. My welling tears overflowed and I ruined my makeup sobbing all the way through "How Great Thou Art." I managed to compose myself long enough to say my vows, ring his finger and share the world's longest kiss - then after we'd marched triumphantly up the aisle I collapsed again in a sea of relieved tears.
I remember thinking, "We're officially man and wife and that's all that matters - let's get out of here!" But there were still guests to be greeted, pictures to be taken and dances to be danced. The next few hours were a blur of portraits, wedding party antics, summer evening newlywed bliss as the shutters clicked unnoticed, a humming smoothie bar, scrumptious dinner buffet, greeting dear friends from near and far, hugging and laughing and countless kisses to the din of ringing dinner glasses. I have never had so much fun. All too soon it was time to dance: with my dad, with my beloved and he with his mom. Our men and maids of honor gave toasts, and we presented our dads with a surprise cake in honor of Father's Day.
Speaking of cake - my aunt concocted a literal confectionary wonder, the likes of which I've never seen. I'd warned Nathan about not getting me dirty, but when we cut the cake he saw the evil glint in my eye and automatically defended himself by shoving a fistful of cake up my nose. Some things never change.
I threw my flowers, he flung my garter and we danced briefly and ferociously with our guests before rushing upstairs to change. I had a short bout of hysteria when I realized that I was now a married woman and would never again cuddle up alone in my bright green bedroom or stay up too late whispering with my sister. She consoled me, fastened my going-away dress, grabbed my luggage and we took one last picture together. I met Nathan at the bottom of the stairs and we grinned at each other, giddy with excitement about the future that we would finally face together. We ran through a sea of bubbles blown by raucous guests, hopped into his Camry and drove away into the night.
The next few weeks were a flurry of honeymooning in Cancun, opening wedding gifts, packing up all our earthly belongings, saying goodbye to everyone I'd grown up with and road tripping to a new life in Texas where we had no one but each other. We laughed a lot, loved more and fought seldom. After years apart, spending every minute with my beloved was paradise. We never have to say goodbye again - and that is the profoundest relief I've ever known.
Nathan, the past two years with you have far surpassed my loftiest expectations. I see you day in and day out, and I more than anyone can say that your character is genuine to the core. Your love and honor for me never fluctuates with my moods and sinfulness. Every day you treat me as your bride, your treasure, in ways that I do not deserve. You sacrifice for me without complaint. You cheerfully put up with the messes I make in the kitchen, my temperamental cat and my everlasting showers. You, more than anyone I know, define love to me: patient, kind, not jealous or rude, nor irritable or resentful, not arrogant or self-seeking. Bearing, believing and enduring all things. Never ending. In spite of your many talents and a demanding work schedule, you esteem me and never cause me to question where I fall in your priorities. You are a man who lays down his life for his wife as Christ did for the church. Having lived and learned with you these past two years, I can honestly say that I have fallen increasingly deeper in love with you every day since our wedding. You have stolen my heart, forever and always. I love you - the most!
This is my beloved, and this is my friend.
- Song of Songs 5:16